There's no shortage of things to do when in Berlin.
From taking a sunset stroll around the iconic Brandenburg Gate to enjoying a panoramic dinner at Berlin TV Tower, these are the must-try nightlife activities you have to experience.
Here's your essential guide to the best things to do when the sun goes down in Berlin.
You've definitely heard of Berlin's most famous (and most exclusive) club. Berghain has earned itself a reputation within the city's nightlife scene for its strict entry policy and the fabled stories that take place behind its closed doors.
While the exact formula for getting let into Berghain remains a mystery, many claim that the long queue and sparks of anticipation are well worth it if you're lucky enough to get selected.
So put on something black (and cool, apparently) and get ready to stand in line. You're possibly in for one of the most memorable nights of your life. And if you get turned away at the door, at least you can say that you've tried.
Enjoy a panoramic dinner at Berlin TV Tower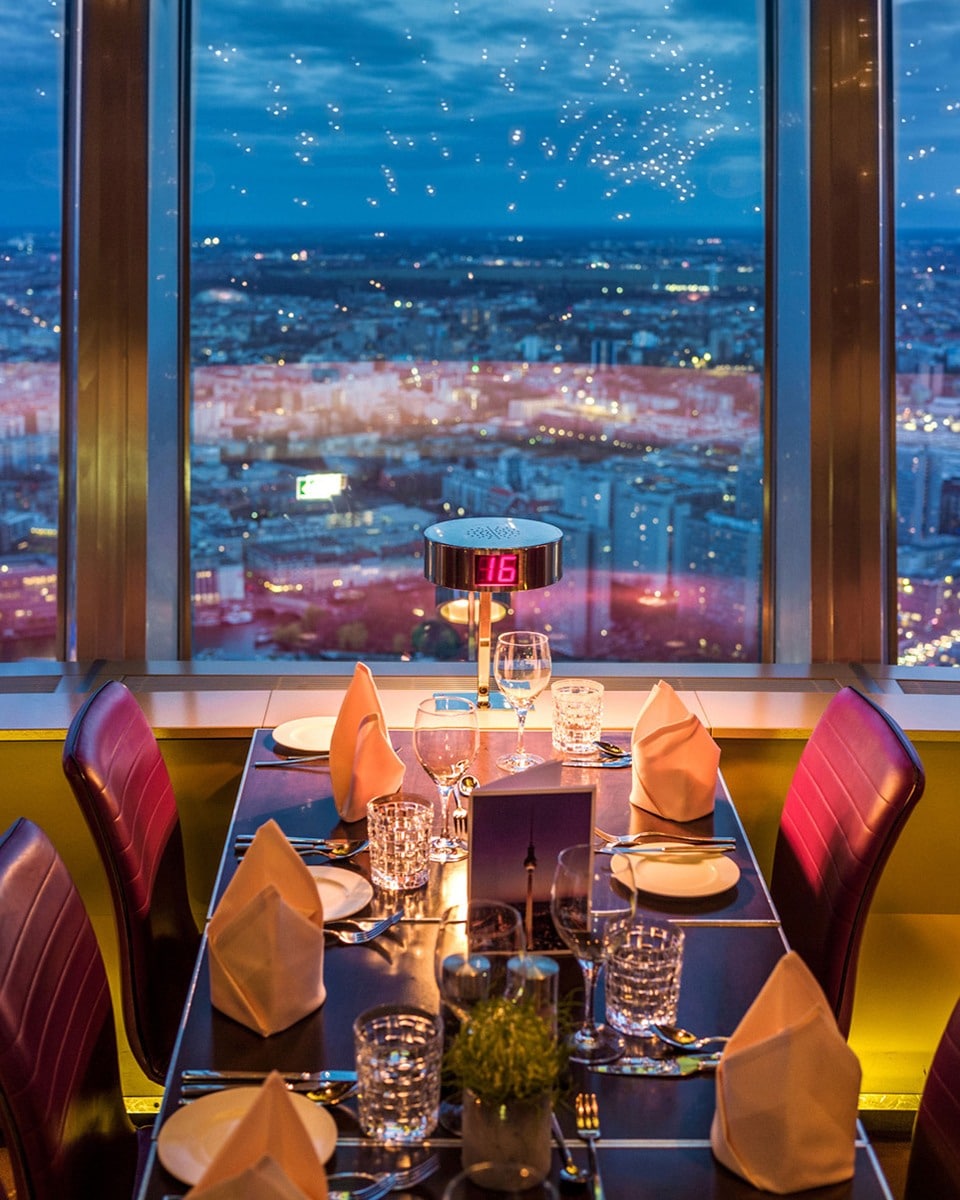 Have you ever had dinner in a rotating restaurant? This is your chance to find a fun thing to do while getting a delicious meal.
Experience 50 years of Berlin's culinary history at the tallest building in the city, reaching 365 meters high. The famous Revolving Restaurant Sphere in the Berlin TV Tower offers everything you need for a memorable dining experience.
Enjoy a panoramic view of the city and indulge in the delicious flavors of the German capital.
Their Panorama Dinner menu features a delicious glass of sparkling wine, followed by a three-course menu (accompanied by more wine, of course) and a final hot drink to end your night.
Anyone and everyone – from locals to tourists – consider this a go-to hotspot for Berlin and frequent it accordingly.
Take a sunset stroll around the iconic Brandenburg Gate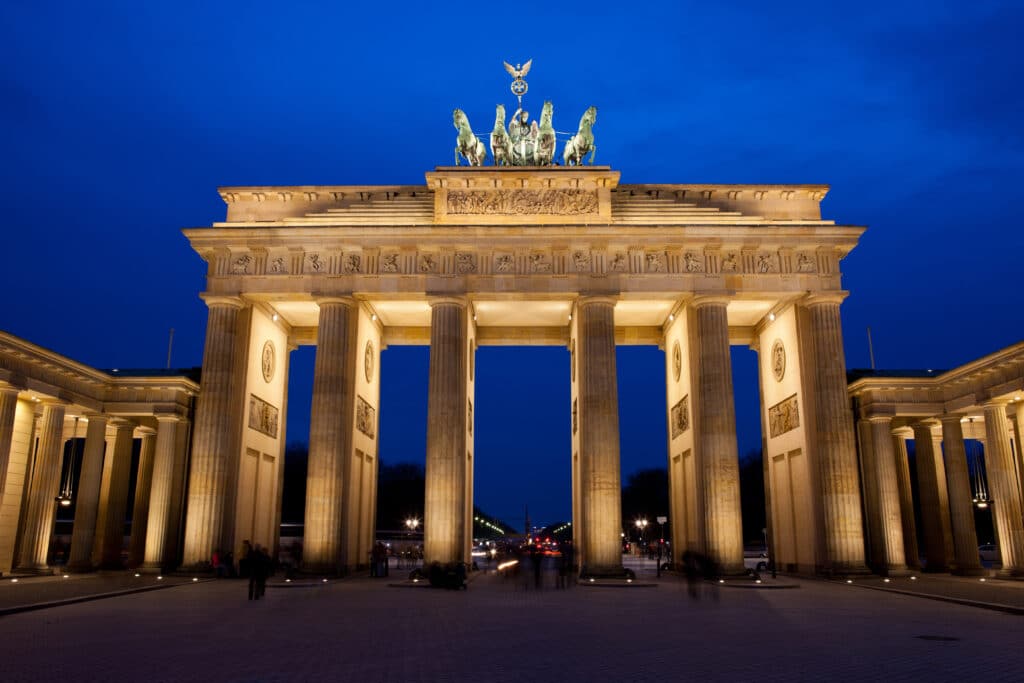 Brandenburg Gate is a staple of Berlin, built in the 19th century on the orders of Prussian king Frederick William. Imagine seeing its beautiful structure during sunset – kind of jaw-dropping, right?
Today, it stands as the city's most famous landmark, and has become a symbol for national peace across the country. At sundown, the gate is lit up, making it a beautiful site to admire as you walk around Berlin.
One of the most important things to do in Berlin is to pay a visit to this striking monument. Since its a touristy spot, expect to see a plethora of international people.
Grab a late-night bite at Markthalle Neun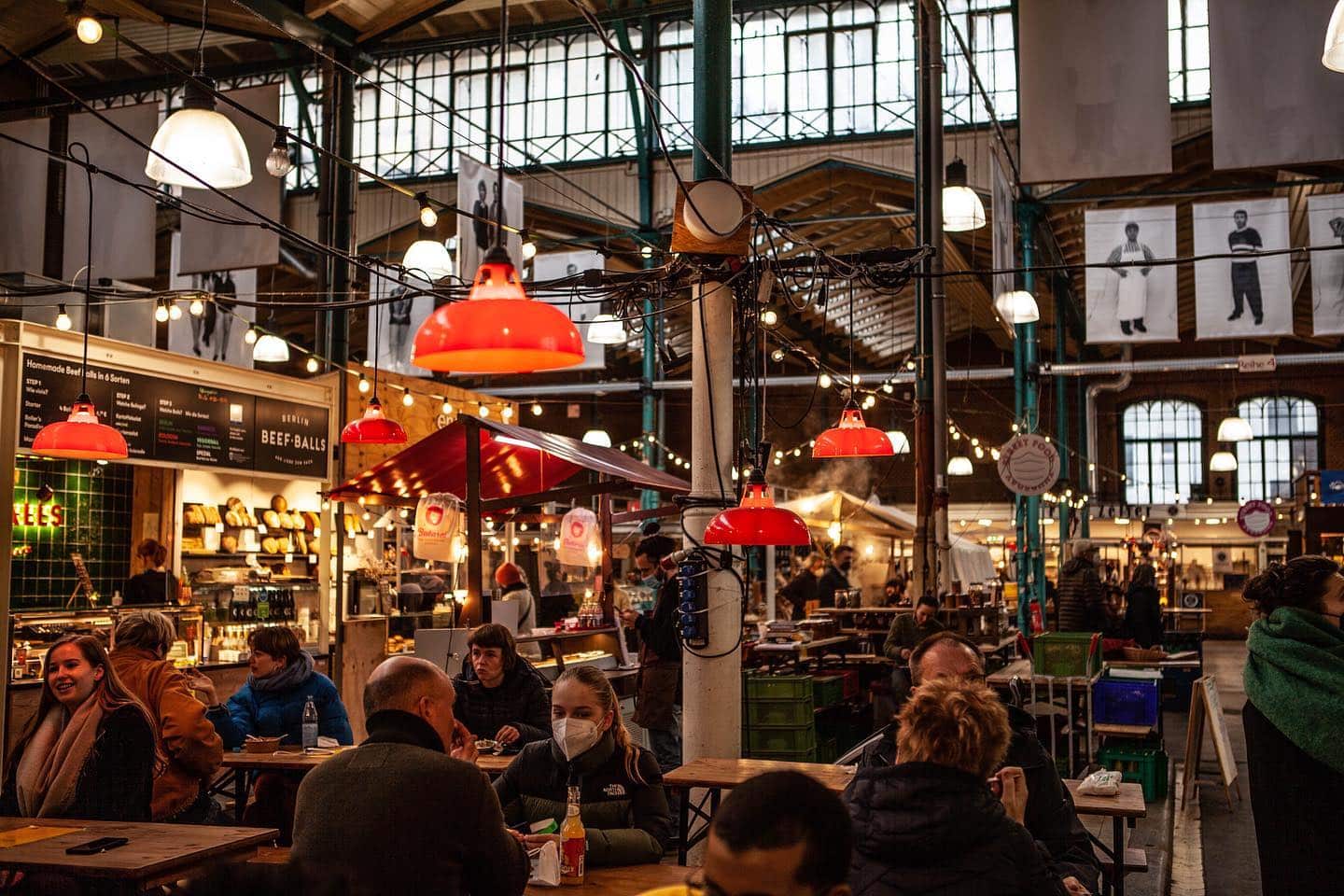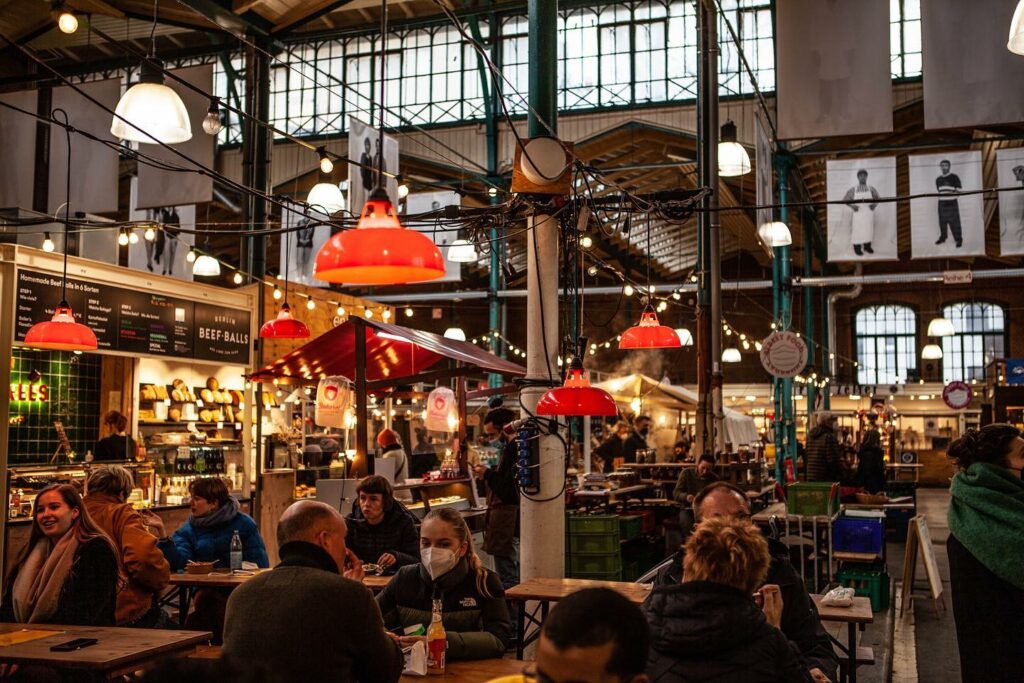 Berlin's street food is high up on the list of things to do when looking for delicious grub.
Try everything from delicious Bratwursts (or any other kind of wurst), döner kebabs, delicious pretzels and more at any of Berlin's evening street food markets.
Markthalle Neun is the way to go when you seek a late-night bite. The evening street food market is open until late and features a variety of food, drinks, cocktails, and locals to meet.
Enjoy some live music at Rickenbacker's Music-Inn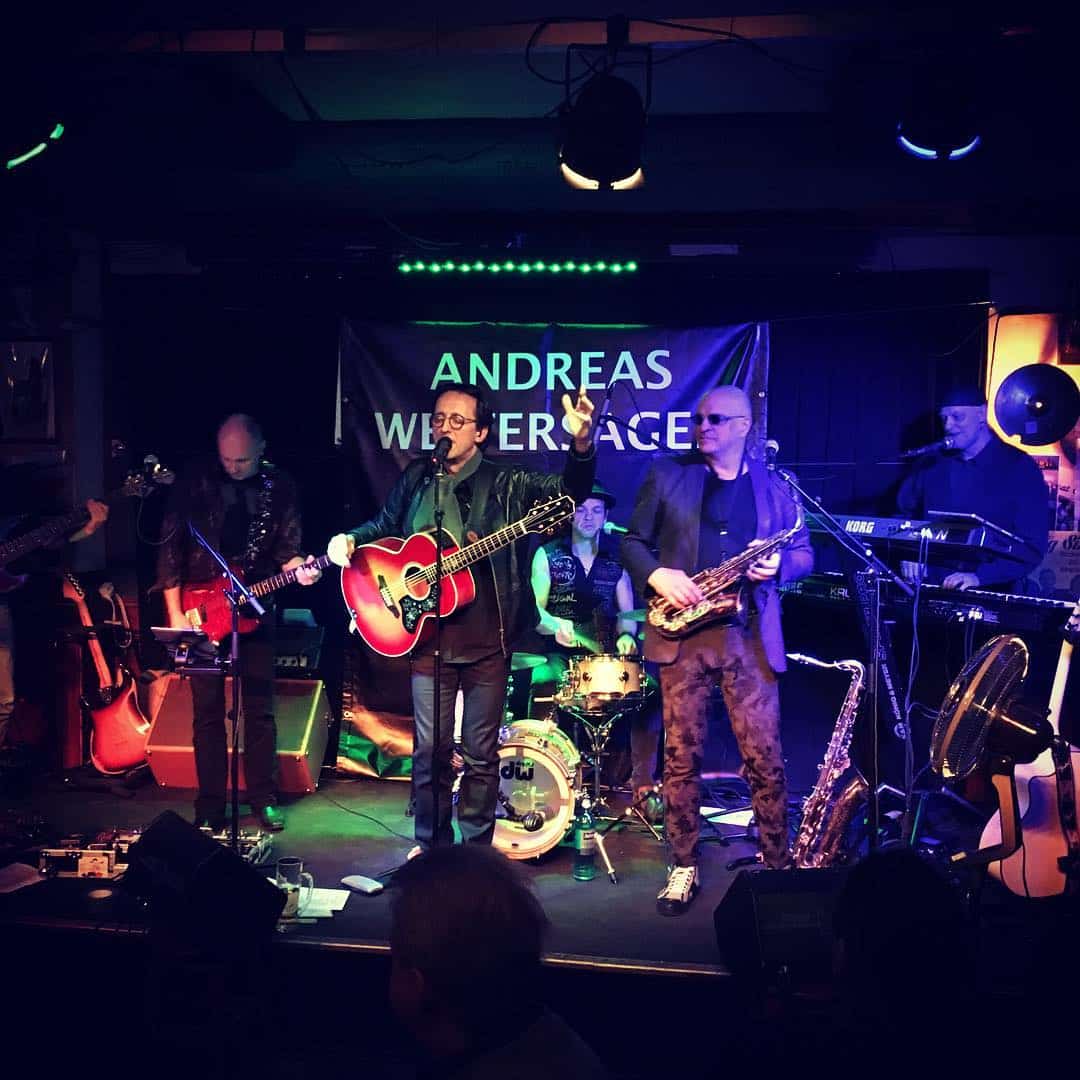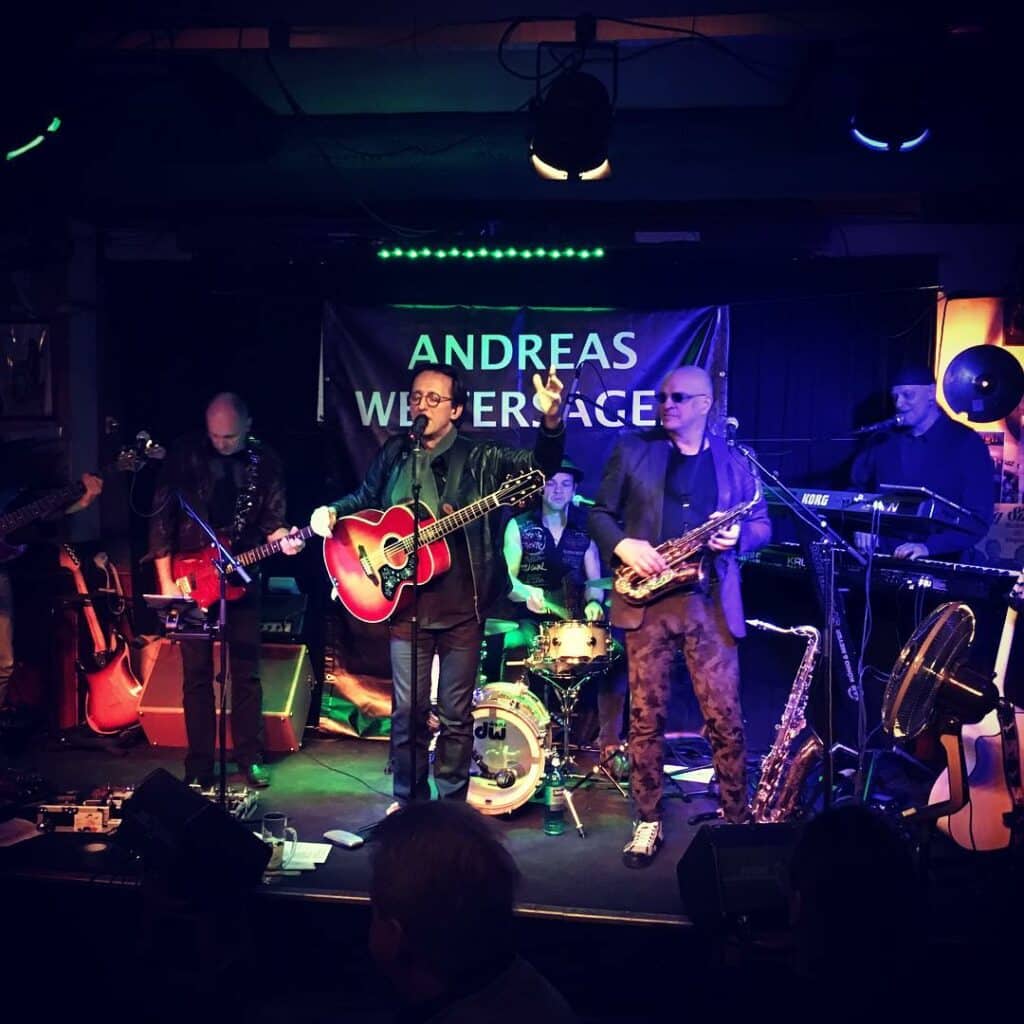 There's nothing like indulging in Berlin's very own live music scene. Pubs and bars across the city host an array of live music events ideal for those in search of things to do in Berlin at night.
One notable mention is the Rickenbacker's Music Inn, an Irish pub which has become home for all things live music. From jazz, to rock, to country, to everything in between and around, this venue will satisfy all your musical desires.
Spend your night enjoying a delicious meal, a pint of beer and some lovely tunes. You will be surrounded by both tourists and locals.
Try some authentic craft beer at BRLO
If you're a beer lover looking for things to do in Berlin, you're in luck.
Germany is well known for its beer. And what better way to really indulge in the culture than go to an authentic brewery built out of old shipping containers?
BRLO BRWHOUSE is a brewery, restaurant, bar and of course, beer garden. The hipster atmosphere is coupled perfectly with a cosy and contemporary menu, featuring all the craft beer that your heart desires.
If you're a self-proclaimed lover of beer, why not book an evening tour of the brewery as well? This is the go-to place to meet beer aficionados – both local and international.