Barcelona, Spain
Club / Indoor only / S – 500-2k
City
Electronic, Hip-Hop
$$$
Upscale, Elegant, VIP
Smart
Indulge in the luxurious offerings at Sutton Barcelona.
In the affluent Sant Gervasi-Galvany area, Sutton opened its doors in 2001 and has since secured itself as Barcelona's number one hotspot for partygoers who crave a luxurious experience.
Lavish and exclusive, Sutton is nestled in a majestic building along a commercial strip. The grandiose décor radiates sophistication and elegance, with luxurious leather seating, polished parquet floors, and tasteful trimmings that give guests an unrivaled experience of luxury as they peruse through its hallways.
Sutton's dancing space is always alive with the pulse of electronic and pop music, featuring artists such as David Guetta, Calvin Harris, and Bruno Mars.
Step into Sutton Barcelona and channel your inner celebrity as you might mingle with the rich and famous. Are you seeking an exclusive experience with A-listers or a chance to pamper yourself? Sutton Barcelona guarantees the ultimate in luxury.
Here's everything you need to know about Sutton Barcelona.
Sutton Barcelona's rise to greatness
The swanky Barcelona club opened in 2001 and has maintained its hype and elevated experiences with unwavering attention to detail. Sutton is a celebrity magnet – and its clientele is as opulent and classy.
Sutton knows its status in Barcelona nightlife and has guestlists or reservation-only procedures for clubbing sessions. If you want to rub shoulders with your Instagram model, you must show off your stylistic prowess to guarantee entry.
The club is partnered with brands like Bacardí, Grey Goose, and Moët & Chandon, so jumping through hoops to enter is only fair.
The ritzy Sutton sits in an equally trendy neighborhood
Sutton found its home in Sant Gervasi – Galvany, northwest of the center of Barcelona. The area, also known as Zona Alta, is an affluent residential neighborhood bustling with flashy nightlife hubs.
Sant Gervasi – Galvany is known for its large-scale Mercat de Galvany, which sells locally grown products, baked goods, and homeware.
Alongside all the booths, the almost century-old market organizes cooking events and classes. Filled with plazas, open-air markets and art nouveau architecture, the suburb strikes a balance between green spaces and residential areas.
Known for its lush parks scattered with ponds and pergolas, Sant Gervasi – Galvany is the type of place you want to move to for idyllic summers.
Sutton Barcelona found shelter on a commercial block with competitors on either side and the luscious park Muñoz Ramonet only minutes away.
Renowned French landscaper, Jean-Claude-Nicolas Forestier, is the mastermind behind the gardens. With flowerbeds, a pond, and pergolas, the Muñoz Ramonet park is a must-visit picturesque site in suburban Barcelona.
Sutton Barcelona is grand in size and essence
The main room spans a sprawling dance floor and bar, with an elevated and central DJ booth preserved for headliners. This setup allows for dynamic clubbing sessions.
Aside from the primary space and smaller commercial music-fired room, each of the five exclusive areas of the club is branded: Patrón Bar, Ballantines Zone, VIP Grey Goose, VIP Moët, and VIP Jack Daniel's – talk about name-dropping.
Sutton doesn't stop at having a 1,000-person capacity and takes it further with a private Moët Suite for the big ballers to showcase their – apparently very – disposable income.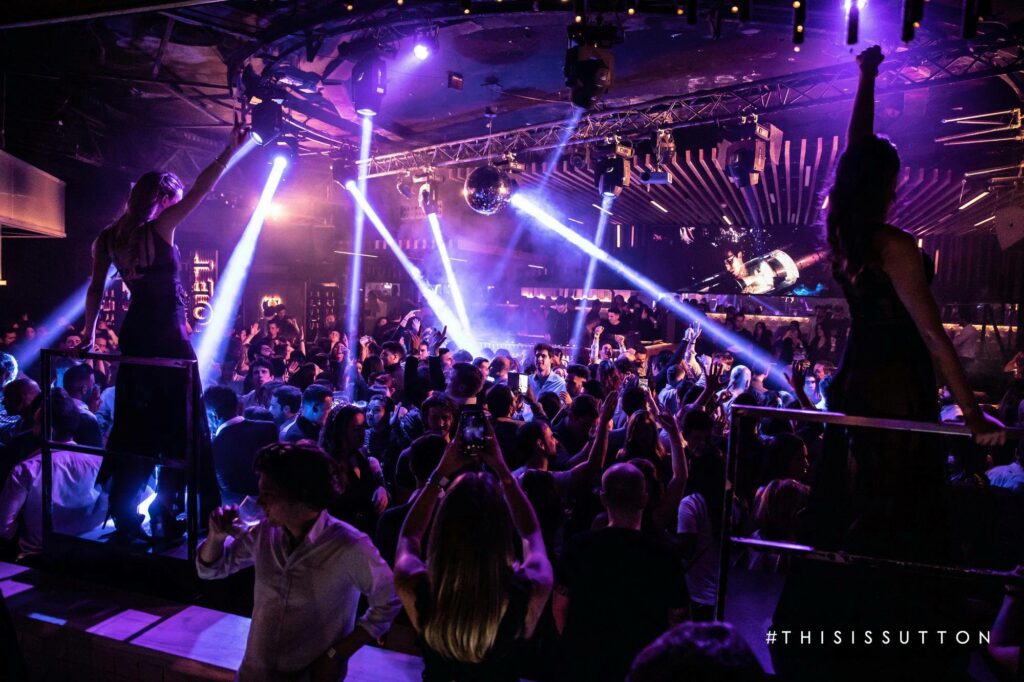 The Barcelona nightclub is in touch with its crowd and knows no Versace-wearing model would sit on a high chair. The club is flooded with black and white leather lounges, bringing an added air of luxury to the nightlife venue.
Sutton's ultra-modern interior is emphasized by its oddly shaped chandeliers, gold finishes, and multi-textured decor, further displaying its old-money vibes. Though the club is dark and sultry, romantic lighting adds a playful touch to the otherwise sleek nightlife venue.
If you think Sutton is all bark, no bite – think again. The Barcelona dance haven features a Pioneer sound system and HK Audio monitors deliver the beats. As you might have figured out by now, Sutton has a hold on its partiers with a clear and crisp sonic experience.
Tick artists off your live music bucket list at Sutton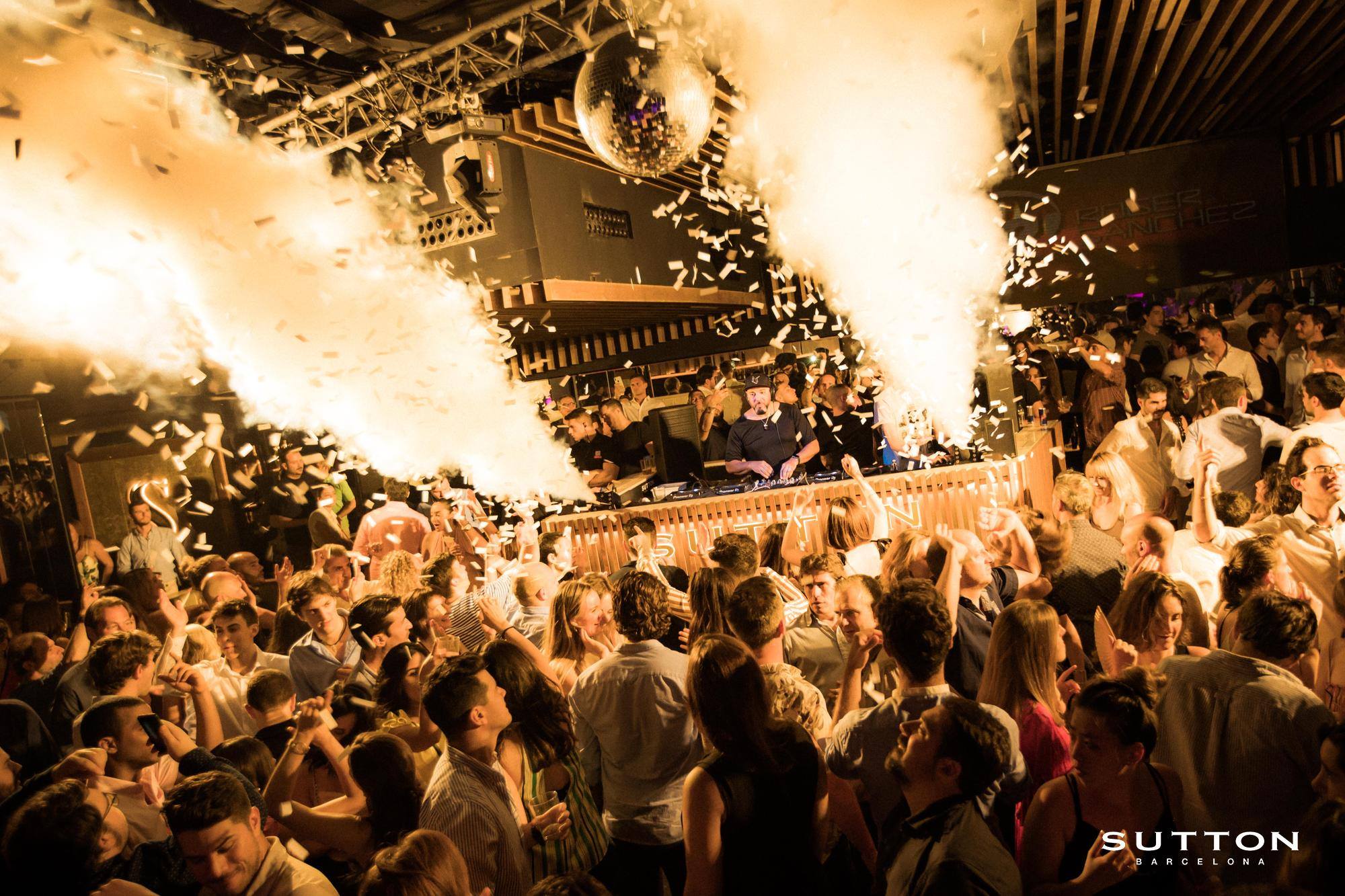 Sutton Barcelona knows that every clubber has a unique go-to music playlist.
Instead of focusing on one music genre, the clubbing temple went all in for a mix of beats eclectic enough to cover every party-goer's anthem.
The nightclub focuses its music repertoire on techno, house, and commercial hits.
Blue-blooded artists like Steve Aoki, David Guetta, Calvin Harris, Bruno Mars, and The Martinez Brothers performed to beat-thirsty crowds and maxed out capacity at the club.
While the main room is where all the money and heart-throbbing sounds are at, the club's other intimate room has a soft spot for pop hits and reggaeton tunes.
There are plenty of options at Sutton Barcelona
With sponsored and private areas, Sutton takes it up a notch with 50 VIP tables at your disposal. The drink selection at Sutton Barcelona is delectable and diverse, so expect top-shelf whiskey and premium beer.
A one-bottle VIP table fetches a few hundred, while a deluxe one with more alcohol volume costs some jaw-dropping thousands.
Sutton Barcelona takes its lavish name globally
The Barcelona nightclub and its sister club in Sao Paulo are known far and wide as celebrity hotspots for their top-notch lineups, VIP treatments and endless commitments to bring la crème de la crème for partying experiences.
Sutton's World Tour is a nightlife venture where the nightclub takes its clubbing sessions worldwide.
The Sutton World Tour events take over similarly extravagant venues and with killer lineups in New York, London, Dubai, Stockholm, Cannes, Munich, and Copenhagen. Some clubs that witnessed Sutton's A1 events are Cavalli Club, Cafe Opera, White Dubai, and Lavo.
The Barcelona nightclub has a rather atypical age policy
If you thought that US clubs have a strict entry policies, you might want to think again. Sure, getting your first drop of alcohol and clubbing session at 21 is quite brutal, but Sutton Barcelona leveled up the game for age minimums.
Sutton's bouncers might not be as harsh as the ones at Berghain Berlin, but they are the strictest in Barcelona.
With an A-lister crowd comes great responsibility, which is why Sutton has strict age and entry policies.
On most weekend nights, the club ups its minimum age to 25, ensuring its crowd is wild enough without getting too out of hand.
If you are under 25 but still want to party at the high-end clubbing destination, have no fear. On Wednesdays and Thursdays, the door crew is more relaxed and will grant you access to Sutton – but you need to be at least 18 and dressed to kill.