Bogota, Colombia
Club / Indoor & Outdoor / M – 2-5k
City
Pop, Electronic,Latin
$$
LGBT, International
Casual
Boasting a reputation as one of the world's most renowned LGBT+ nightclubs, Theatron Bogota ensures an unforgettable clubbing experience that will leave you begging for more.
Set up in a former movie theater, the iconic Theatron is a crowd-pleaser in Chapinero, east of Bogota. Established way back in 2002, this popular night club boasts a massive stage that regularly hosts flamboyant drag shows to packed audiences and thunderous applause.
Home to an impressive complex of thirteen dance floors and a rooftop that can accommodate up to 5,000 people every evening, Theatron is the epitome of Bogota's vibrant nightlife scene.
Theatro's diverse dance floors are overflowing with pumping Latin music, pop tunes, electronic beats, and hip-hop bangers. As an essential element of Bogota's international nightlife scene, this nightclub welcomes everyone regardless of gender identity or sexual orientation.
This Bogota nightclub radiates a vibrant energy with its multi-genre fusion of tunes and timeless vibes that cater to every clubber that steps inside.
Here's everything you need to know about Theatron Bogota.
Theatron is a rollercoaster with twists and turns you'll never see coming
With a history full of surprises and a venue big enough to get lost in, Theatron is redefining Bogota's LGBT+ scene.
From a porn cinema to a house of music gods, Theatron is a teenager on a quest for self-discovery. The club's journey started in the '60s as Metro Riviera Theater, with its curtains opening for iconic movies like ET the extraterrestrial and Jaws.
Two decades later, the theater was forced to turn into an adult film cinema to survive. In a world without internet connections and porn at the push of a button, erotic cinemas weren't a wild concept.
Some cinemas went the extra mile with striptease sessions and sex shows between movies.
In 1995, events took a turn, and the porn cinema was converted into an evangelical church. With the decline of Catholicism, the church packed its bags and left, making space for what would become Theatron.
The mastermind behind the thriving queer spot is businessman Edison Ramírez, a pioneer in Bogota's LGBT+ nightclubs. Although homosexuality was legalized in 1981, discrimination was still rampant, so gay bars were left in the closet with no door signs.
Edison kicked off his nightlife mogul career by creating Zona Franca – which translates into Free Zone – in 1995.
It lived up to its name, as the club was one of the first nightlife hubs to provide a safe space for the marginalized community of queer party-goers. The club closed its doors in 2002, making room for the large-scale Theatron, opening in the same year.
It is only fitting for Theatron to find shelter in an LGBT+ neighborhood
The internationally renowned LGBT+ club is located in Chapinero, the upscale gay area northeast of Bogota, also dubbed 'Gay ghetto.'
A mix of glitzy malls, must-see landmarks, and uber-vibrant nightlife hubs, the neighborhood is named after chopines, a unique mud-resistant shoe made by a shoemaker called Antón Hero Cepeda.
With a hippie vibe written all over it, Chapinero blends history, art, and gay pride like it's a hobby. Fashioned after medieval times, the Church of Our Lady of Lourdes has been luring tourists with striking Gothic architecture.
The Teatro Libre De Bogotá, established in 1973, is where art meets culture.
For those with a soft spot for drama and playwrights, the theater is a fan of iconic international plays by English legend Shakespeare and Swedish icon Strindberg.
But that's not to say the cultural hotspot doesn't support local talent. Novelist and short-story writer García Márquez is part of the picture, along with other Colombia-born gifted authors.
From the first LGBT+ Community Center in Latin America – helping more than 25,000 members with psychological counseling and legal advice – to a rich gay nightlife scene, the neighborhood earned its rainbow stripes fair and square.
Theatron Bogota is so big that 17 visits won't cover it
Theatron's size is colossal, with a capacity of more than 5,000 party animals. The nightclub comprises 17 buildings – if that won't keep you entertained once and again, the club is constantly changing its decor and doing themed parties to keep its patrons on the edge of their seats.
Each building features a state-of-the-art sound system, giant video screens, and a modern light system.
Dedicated to offering diverse nightlife experiences to whoever sets foot inside, every Theatron building has something different to offer.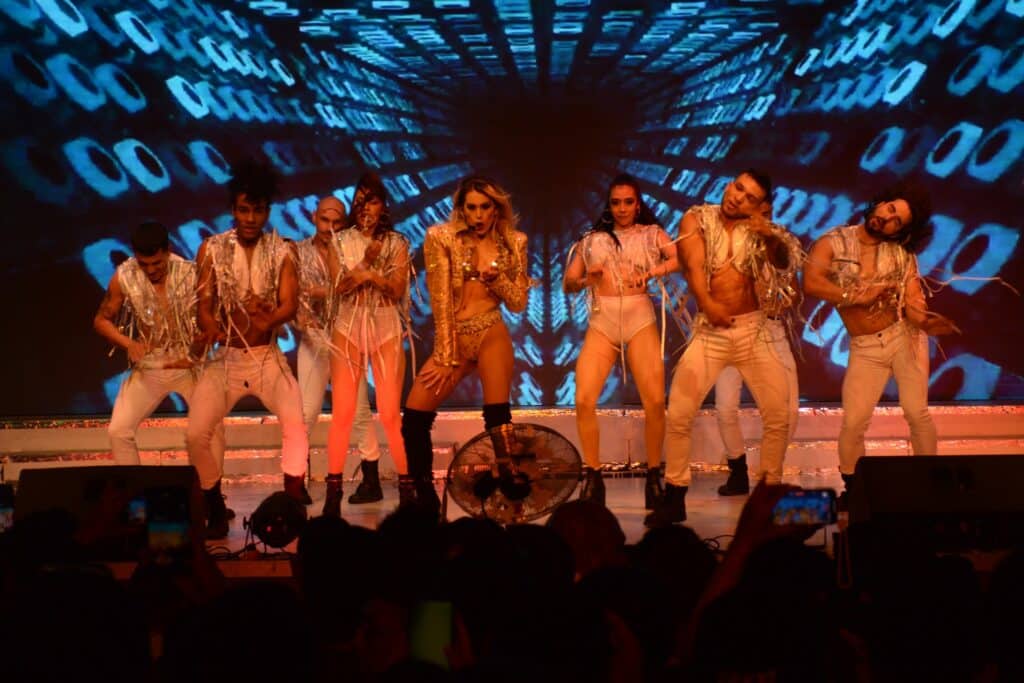 Theatron's Metro building is all about the art-deco decor, with checkered floors and pictures of pop stars sewn on seats. Plaza Rosa gives Theatron's clubbers the party-with-head-to-the-sky experience with a rooftop terrace.
Eva is a world reigned by Venus where men won't past its threshold. Whether you're a woman playing for the other team or looking to ditch the company of the opposite sex, grab your girlfriends and let loose at Eva's women-only dance floors.
If you still didn't find your tribe, Capila's 360° stage and SUBTHE 58's underground might be what you look for.
Whatever you are seeking on your clubbing journey, Theatron probably has it on one of its dance floors.
Jack of all trades, master of all
Theatron prides itself on the talents that walk through its doors.
Some A-list music heroes that took over Theatron's stages and audio decks include Grammy winner Boy George, electronic legend Paul Van Dyk, and the first Brazilian drag DJ Las Bibas From Vizcaya.
Whether you are into electronic, Afro-house, or pop music, you get your Aladdin magic lamp and three wishes at Theatron.
The nightclub's vast number of spaces fuel Theatron's music diversity, each drawing in crowds who jam to the same beats.
Not one for modesty, Bogota's Theatron has its own Music Lab where you'll keep up with the music trends. Loyal to the theme, the building has industrial touches imitating a life-like lab with diverse and eccentric beats.
Theatron Bogota will check all your boxes when it comes to entertainment
Theatron caters to the LGBT+ community with its unparalleled drag shows by queens like Johanna Fadul and sexy GoGo dancers.
A night of rumba in Theatron costs around $10-$15, depending on the event. If you want to treat yourself, consider getting a VIP ticket.
Dear foodies, the Muro building is calling your name if you feel famished after your dancing sessions. Delicious international dishes and lip-smacking cocktails translate into a proper time-out from the dance floors and the 'it' pre-drinking session.
Theatron's sex shop is worth a little detour
If you're looking for a souvenir to remind you of Theatron's iconic parties or a spicy toy to create your own wild night, Bogota's music jewel is happy to oblige.
Unleash your dirtiest fantasies and step right off Plaza Rosa Station into Theatron's sex shop – it's no less magical than King's Cross Platform 9 ¾.
Whether you're looking for sexy lingerie for the night, leather straps to get the bear fetish party started, or a vibrator to keep things buzzing, Theatron's sex positive boutique has it all.
The nightclub works with festival companies like XLSIOR MYKONOS and MATINÉE, taking parties and DJ line-ups to a new level.
If it means dressing up or lack of dress, Theatron is all in
Theatron's themed parties are a right of passage for every LGBT+ member. The club brings all your wildest fantasies to life with candy and bear fetish parties.
The nightclub also holds an annual drag contest where Bogota's queens and clubbers can join for a chance to win cash prizes. Theatron's producer, Koralito, and director Edison Ramirez are behind the club's iconic drag contests, aiming to celebrate and promote drag art.
Taking its drag contests seriously, Theatron Bogota picks the winning participants based on their talents. Rehearsals prepare the queens for the fierce head-to-head competitions every week.
Those able to come through unscathed and steal the show make it to coronation night. The finale party is untamed, as clubbers witness cut-throat elections and guests like Dennis Fernando add pizzazz to the nightclub's sultry night.
The cherry on top is Theatron's commercial underwear fashion parties, working with brands like JOR, Intymen, and Macho. Channel your inner fashion critic during your clubbing session and enjoy the catwalk.
With a venue always willing to start anew to keep up with the changes of time, Theatron displays a dynamic attitude to nightlife.
Theatron Bogota is constantly upping its game and matching the party animals' energy stride for stride with new buildings, star-studded performances, and events that will keep you breathless.