New York is known for its permanently buzzing nightlife.
Starting with Panorama Room's sweeping views and ending with a finger-licking hot dog at Crif Dogs, this is how you can experience an amazing night out.
Here's your essential guide to New York nightlife.
Enjoy a view-and-cocktail session at Panorama Room
Nestled among Roosevelt Island's low-rise buildings, the sleek and vintage-inspired Panorama Room delivers unobstructed views of Manhattan, the Bronx, and everything in between.
Graduate Hotel opens its doors to New York's drink-savvy community on the 11th floor, but this inviting watering hole offers more than just awe-inspiring panoramas.
The Panorama Room is not upscale, nor is it mainstream. Envisioned by an award-winning design company, its visually dramatic decor displays velvet sofas, chrome accents, and hovering quirky chandeliers.
In a symphony of innovative elements and retro vibes, guests feel transported to futuristic marvel and nostalgic reverie. Maybe that's part of the reason why Panorama Bar lures an eclectic crowd of cocktail connoisseurs and hip trendsetters.
Capture a gram-worthy shot at Times Square
With its slew of glowing advertisements and eye-catching billboards, the neon-lit Times Square has rightfully earned the moniker "The Crossroads of the World."
A NYC icon, the entertainment hub brims with skyscrapers, turning every moment into a potential social media masterpiece. The square is a swirl of constant movement and energy, so don't get your hopes up for a no-people-in-the-background pic.
Set sail on a nighttime escapade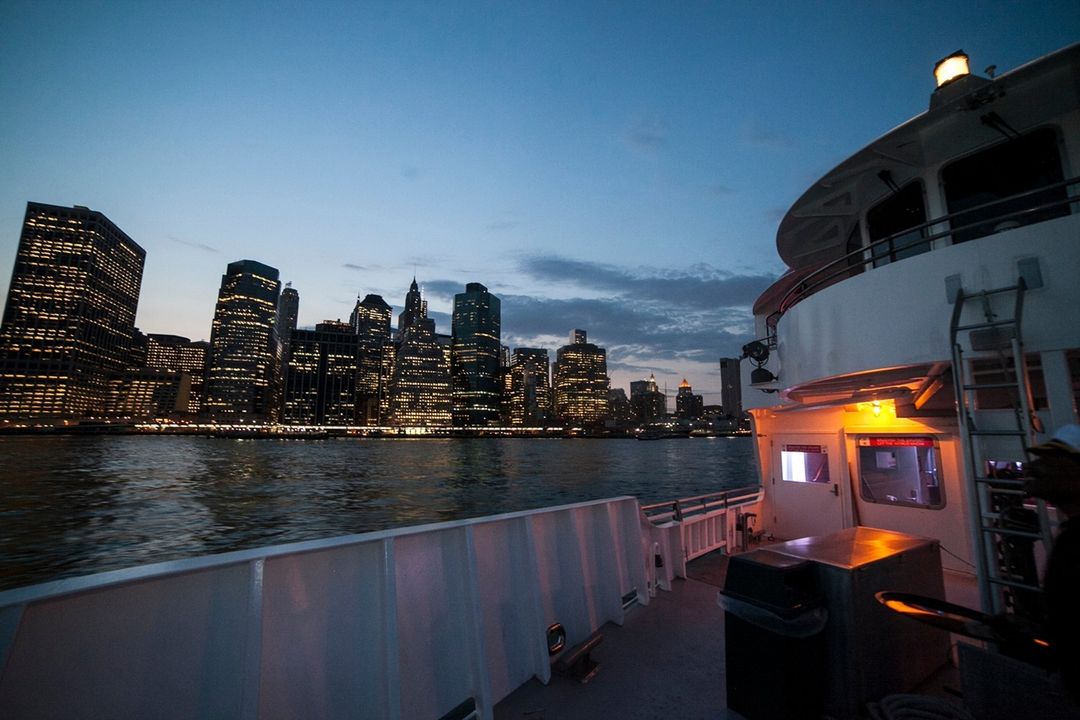 Who said nightlife is only about bar hopping and restless clubbing? When in New York, a night cruise allows you to see the beautifully-lit cityscape from the other side.
With Circle Line, one of the city's first boat tourist companies, night owls trade the ordinary for an extraordinary moonlight voyage. New York unfolds in a radiant tableau of light and shadow as the boat sails along the Hudson and East Rivers.
From the dazzling Empire State Building to the illuminated Lady Liberty, the cruise tour ticks all boxes for unmissable landmarks.
Head to the generous deck if cocktails and floor-to-ceiling windows don't scratch your itch. Rumour has it that al fresco mode is the best way to enjoy the City that Never Sleeps.
Explore Midtown Manhattan
With all of the noise, flash, and bustle of Times Square, Broadway and Rockefeller Center, Midtown is the district many picture when they think of New York.
As the city's epicenter for the after-hours scene, the area is not plagued by sleepless distress. It simply is too entranced by its nighttime reflections.
A delightful mix of the nostalgic and the avant-garde, Midtown Manhattan is a testament to New York's diversity. Always with a foot in the past and one in the future, the district boasts everything from casual jazz clubs to Gatsby-inspired cocktail bars.
Speakeasies like Raines Law Room reminds cocktail lovers about Prohibition's clandestine days, minus the fear of police raids.
Elsewhere, Carolines on Broadway brings New York's wittiest comedians to serve up a diverse and biting satire that'll have you clutching your sides (and praying if you're front row).
Midtown Manhattan also houses some of New York's most coveted nightlife destinations, such as the hi-tech Nebula, exclusive TAO Downtown, and queer The Q.
Experience New York's mixology with Overnight Sensation at Patent Pending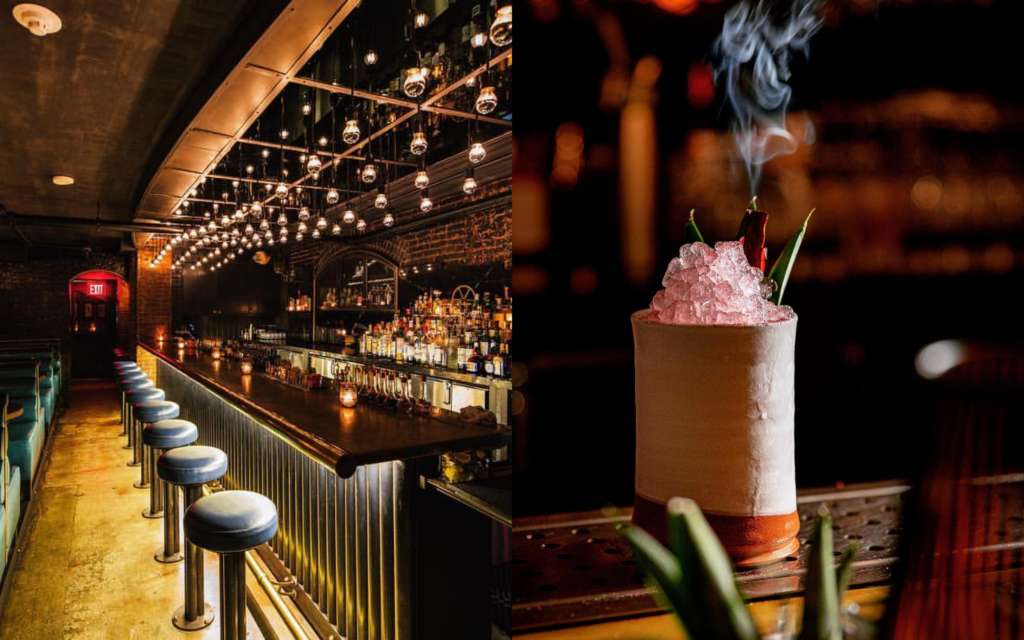 The Overnight Sensation is the Clark Kent of cocktails – seemingly mild on the outside but packing a superhuman punch. Brooding and mysterious, the boozy potion blends a blackstrap rum base with ambrosia, fruity pasilla mixe, burnt toast and watermelon.
The delightful riff on the classic Jungle Bird is envisioned, shaken, and served by Patent Pending. Located in the Radio Wave Building – where Nikola Tesla performed his experiments – the watering hole has a hidden bar allure.
The vintage-meets-industrial decor is a nod to the building's rich history through exposed brick walls and antique fixtures. In its dimly lit atmosphere, large mirrors adorn the walls to create the illusion of space.
The New York nightlife spot is not just about the atmosphere, though. When the sun goes down, the city's investors, creatives, and tech wizards come out to play at Patent Pending.
Burn up the dance floor at Nebula
Parties at Nebula New York are a fusion of futuristic technology, luxury, and sophistication.
From the elite party-goers to the electronic DJs behind the decks, the nightlife hub's clubbing style embodies an outer space vibe inspired by interstellar journeys.
Treat yourself to some hotdogs at Crif Dogs
Picture this: a perfectly grilled sausage nestled within a fluffy bun and topped off with never-seen-before add-ons. When you bite into this finger-licking drunk food, your taste buds will do a joyful cha-cha.
They say the hot dog is as New York as a yellow cab in a traffic jam, but Crif Dogs is not your average hot dog joint. No, sir. This place is to hot dogs what Banksy is to graffiti – edgy, daring, and unpredictable.
But the late-night eatery's unique selling point stands in its authentic menu. From hotdogs with cream cheese to the ones wrapped in bacon, Crif Dogs is always chasing the next big thing.
Laid-back with a touch of vintage, the East Village restaurant lures in everybody – be it hungry party animals or fast food enthusiasts.