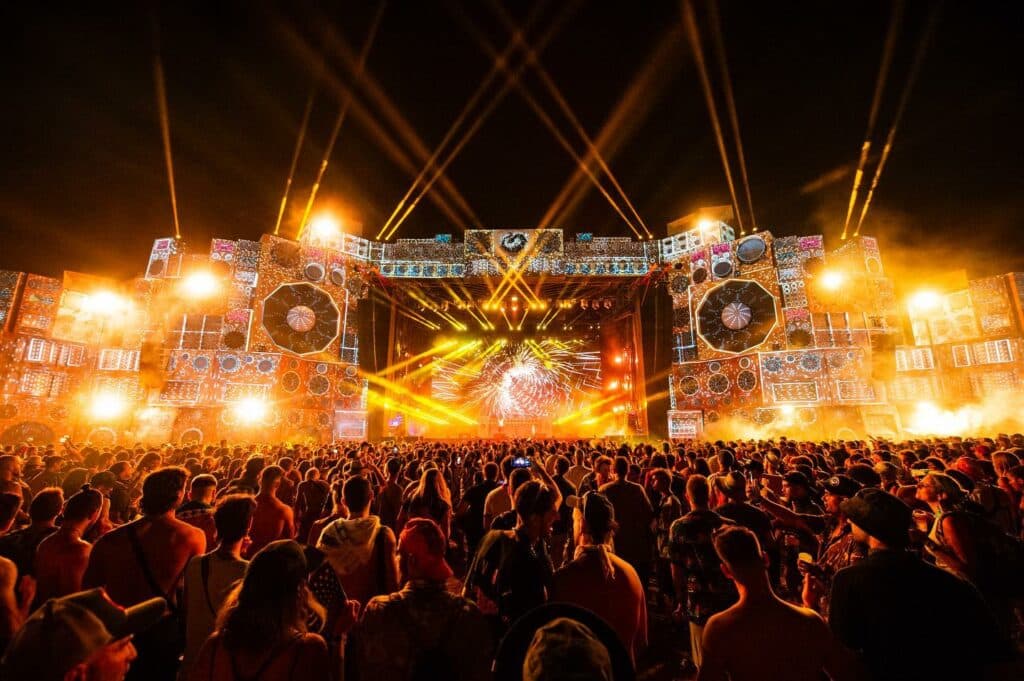 Monegros Desert Festival is celebrated for its numerous stages, larger-than-life installations, and a crowd of international globetrotters – a combo that ultimately makes it a must-stopover music destination.
Here's everything you need to know about Monegros Desert Festival.
Monegros Desert Festival has a fascinating history
The Arnau family also owns the immersive party company Elrow – and it seems like they have found the right formula for creating unforgettable festival experiences.
Initially launched in 1993 under a different name as a small gathering of 200 friends on a family farm, Monegros Desert Festival has morphed into a music-fuelled hub for party lovers from all over the world.
When it celebrated its 10th edition, the music temple rebranded from Groove Parade to Monegros Desert Festival.
Monegros Desert Festival now brings in over 55,000 music lovers, hardcore ravers, and house music adventurers from over 82 countries.
Resembling the Burning Man concept, Monegros Desert Festival has one mission in mind – to create an immersive experience where unparalleled energy, foot-tapping sets, and hypnotic visuals reign supreme.
Festival lineups have consistently been star-studded
Committed to satisfying the music thirst of every reveler, Monegros Desert Festival puts everything from hip-hop, hardcore, drum and bass, dubstep, acid, progressive house, and underground techno into the spotlight.
Though Monegros Desert Festival falls into the multi-genre category, the fest covers the biggest names in the electronic realm.
Elite headliners such as David Guetta and Steve Aoki are the prime names associated with this festival destination – and the roster doesn't stop there. A$AP Rocky, Richie Hawtin, and Skrillex have been global favorites that headlined during Monegros's past festival editions.
The festival takes place at the famous Monegros Desert
Thanks to its beautiful location, this festival is named after the iconic Monegros Desert. The Monegros Desert is a protected area with conservation efforts for wildlife.
You probably have guessed by now that the Monegros Desert Festival is a large-scale event. Over 55,000 people are expected to attend yearly, and this massive festival is easily accommodated in the desert.
Every year, a miniature city is built from the ground up for an epic one-day event.
Luckily for us, even with a soaring number of festival attendees, the desert has limitless space. Located between the towns of Candasnos and Fraga, Monegros Desert Festival is not your average music festival.
With its off-the-wall blueprint, this music fest is comfortably placed in a flabbergasting 12-hectare landscape.
There are eleven stages at Monegros Desert Festival
Bold and creative, Monegros Festival seems to have a sweet spot for breathtaking and mind-blowing displays. In terms of stage production, each exhibits a lustful lighting show that will take your breath away.
The main stage, where the biggest acts perform, goes under the name of the Sound System Temple. Made of stacked boom box speakers that create a colossal structure, this quirky stage delivers the best acts and adds a dash of dynamism.
The second stage is Elrow's Psychrowdelic Trip, which transforms the night sky into an otherworldly experience with 350,000 lumen projectors.
Through its jaw-dropping decor and quirky structure, the Techno Cathedral wants to replicate the beautiful places of worship scattered throughout Spain, accompanied by large, colorful, kite-like structures held together by tension rods.
The Open Air stage is for electronic fans and techno greenhorns who are seeking a genuine connection with the desert. Featuring minimal stage design, the raw and industrial appearance serves as an underground dance floor.
Stick to the stages you want to hang out at since navigating the dense crowds may be physically and mentally exhausting. The multi-faceted location is a generous space, so the stages are pretty far from each other. You don't want to trek five football pitches to catch Paco Osuna's closing, right?
This bad boy is not a camping fan
Mind you, Monegros Desert Festival is a desert-based music mecca, so leafy areas are out of the picture. Rather than securing your camping spot, you are off to a hotel hunting excursion.
Vans and cars aren't part of the package either – this is no Burning Man. While you can commute with your vehicle, you can't sleep in it due to the high temperatures.
The festival keeps you cooled off in the desert
Sun, desert, and music – no doubt that's an unbeatable combo. But this mix also calls for a self-care session, especially when you dance 15 miles at the Techno Cathedral stage.
Monegros Desert Festival makes sure festival-goers stay cool and hydrated in the desert. At the end of the day, you spend 24 hours dancing in the desert.
UV rays are harsh and temperatures can get a bit overboard, so a heat stroke might brutally separate you from Wu-Tang Clan's set.
Every desert has its paradisal oasis, so Monegros Desert Festival features two chill-out areas with grass and free water points. For a heat-stroke-free experience, make sure to catch these shaded areas.
For the ultimate recovery, festival-goers can go through a washing tunnel for a dose of refreshing water. Nothing makes the desert's heat dissipate faster than a cold shower.
Monegros Desert Festival purchased a decommissioned plane and transformed it into a stage
Although it was a logistical nightmare for the festival organizers, Monegros Desert Festival has managed to amaze crowds by hauling an Airbus 330 jumbo jet into the middle of the desert for its 2022 edition.
The decommissioned 60-meter plane transformed into a stage with a dance floor for 800 hardcore festival-goers and 20-hour sets.
Besides serving as a spectacular venue for raging parties, this iconic structure is also the perfect place for festival-goers to reunite as a "meeting point" in case of separation.
Access a Secret Village with Monegros Desert Festival's VIP experiences
With a special section called the Artist Village Train Station, this festival puts a lot of thought into providing the best possible experience for its attendees.
Away from the crowds and bar queues, VIP ticket holders get access to an exclusive underworld that resembles a mini village with real train tracks and wagons. Besides the cool factor of partying inside a train in the vast desert, an intimate area allows you to rub elbows with your favorite DJs.
Short sets by famous DJs can happen spontaneously and artists who mingle there to refresh themselves leave you with opportunities for a casual chat.
This VIP package provides access to exclusive food trucks, rest areas, bars, and toilets on top of everything else. This enclosed space gives off a circus feel, with gigantic red tents hovering over the DJ booth.
Get exclusive Monegros Desert Festival merch in collaboration with DC Shoes
The new apparel and accessory line MDF X DC Shoes is the result of the festival's incredibly unique collaboration with a renowned Californian skate brand.
Partying in the desert can get your clothes dusty very quickly, so this is the perfect way to look good and be practical at the same time.
From T-shirts and sweatshirts to sneakers and sunglasses, make sure you collect them right away before heading to the fest.
Aside from merch, festival-goers can re-fuel after dancing energetically for hours with various delicious and nutritious food options. Food trucks with vegan and gluten-free options, special pizza areas, and fruit stands are available in designated areas.
The festival prides itself as an environmentally conscious event
As a mammoth festival, there is a huge environmental responsibility on Monegros Desert Festival – and the music event doesn't disappoint on that note.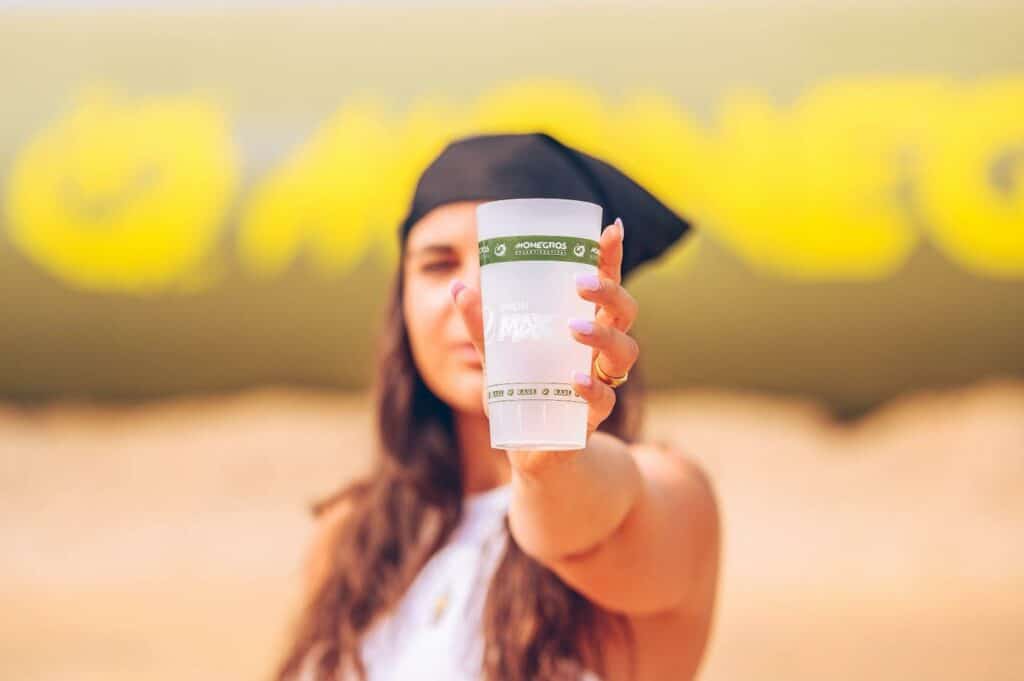 The cups that circulate at Monegros Desert Festival are made of 100% recyclable plastic and can be used multiple times. Keep the cup handy at all times, use it again, and even bring it home as a reminder of your trip to the desert.
Professional waste management company Cicla has partnered with Monegros Desert Festival to reuse scraps from the day's festivities.
Cicla specializes in recovering large volumes of wood, using renewable energy, and supporting social employment. 30% of the profits from this project go towards neurodegenerative disease (like Alzheimer's) research.