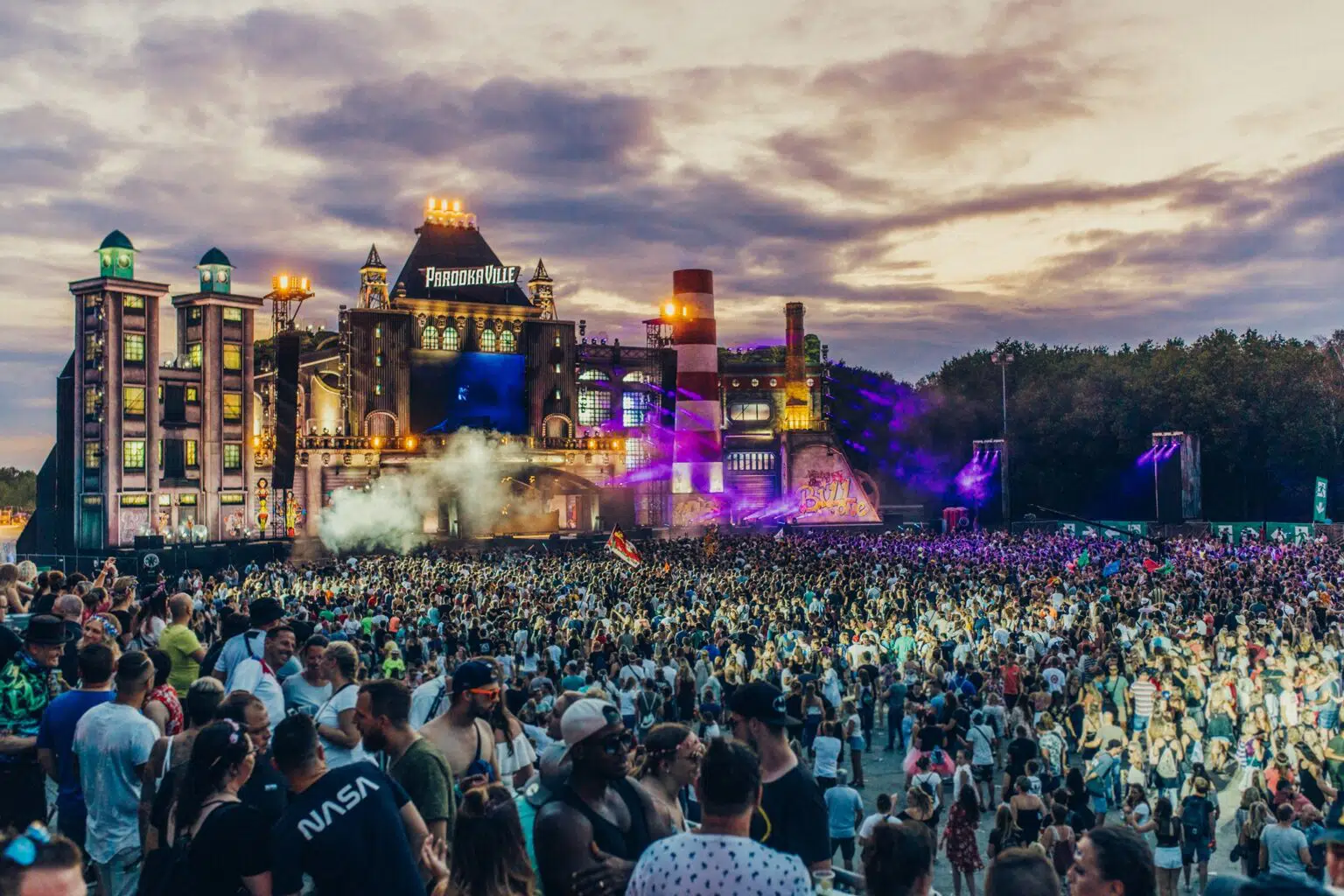 Weeze, Germany
Open-air
XXL – 50k+
Electronic
$$$$
International, Upscale, Live Music
+3 Days
Parookaville is one of Germany's biggest electronic music festivals that takes place in a fantasy land.
Created for EDM fanatics, the festival was conceptualised in 2015 by Next Events, an independent live entertainment and event management company based in Germany.
Whether you're a bassline junkie or an old-school raver, Parookaville is a city that comes to life once a year at the unique location of Weeze Airport, west Germany.
Keeping the legend of Bill Parooka alive, the festival is an annual music celebration that takes place in mid-July.
The music festival offers a completely unique experience with its extravagant decorations, on-site activities and top-tier music artists. Parookaville Festival hosts its own flavor of electronic music with stages covering hardstyle, techno, bass and more.
Here's everything you need to know about Parookaville.
Parookaville might be a rookie, but doesn't act like one
Since 2015, Parookaville Festival has been transforming the vast Weeze airport into an electronic dance paradise every summer. With 80 international artists, thousands of attendees, and elaborate stage designs, Parookaville became synanymous with electronic lovers' dream city.
Fictional founding father and mayor Bill Parooka – whose statue lies on the festival's grounds – created the music experience to make people remember about celebrating the joy of life.
Legend has it that he is responsible for instituting the "Madness, Love and Pure Happiness" laws.
Stepping on Parookaville's grounds will make you feel like you are entering a city. With tattoo parlous, swimming pools, playgrounds and a post office, the event levels up the game for festival experiences.
The music festival takes place on an airport field
Parookaville, which is one of the biggest festivals in Europe, takes place on the former royal air force military airport in Weeze, Germany.
When mid-July comes, the international airport transforms into the city of Parookaville.
The legend of Bill Parooka alive keeps the festival alive
There are very few music festivals that come with their own legend or an imagined history that brings music fans together as a part of an ongoing tale.
Following the motto of fictional founder Bill Parooka, his followers built an entire city on the premises of love, madness, music and pure bliss. The city aimed to become the go-to gathering place where music-loving souls experience true connections and pure bliss.
Created in only four weeks with the help of Sisyphos Berlin, Bill Parooka's metal statue is located in Parookaville's city center.
Parookaville is a fictional city
The music festival converts the entire airport into a city for three days. If that doesn't surprise you, let us tell you one thing – all attendees get a passport to entry and are called Parookaville's citizens.
Like any other city, Parookaville is home to all kinds of amenities.
There's a huge campside, a supermarket, swimming pool, bar, tattoo parlor, bank, post office for the citizens to send postcards to their friends and family, and a church where citizens can tie the knot.
Parookaville has its own newspaper Parookaville Post, which has all the useful information, details and timings about the music performances. One can say that Parookaville is a unique weekend getaway.
The music festival has a classic Parookaville Campsite
The city has a few accommodation options available, namely the Base Camp, Caravan Empire, Comfort Camp and Deluxe Camp.
You can pitch your camp at a designated site, build your own camp with a caravan, or even stay at a VIP hotel – Parookaville has something for everyone's taste and budget.
Visitors can expect chillout areas, exclusive parking lots and sanitary facilities which are free to use.
You can tie the knot at Parookaville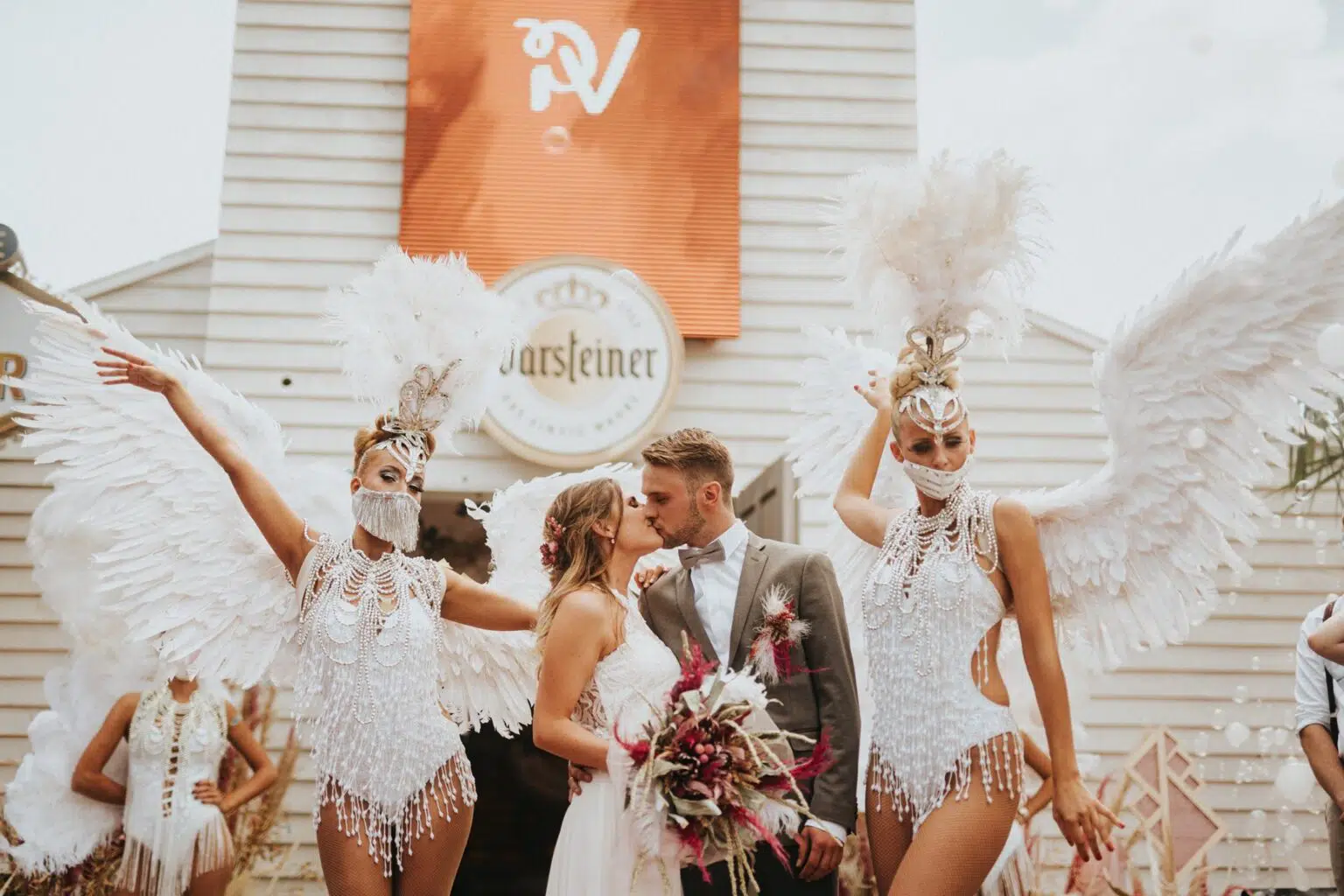 The Warsteiner Parooka Church became a hub of activities to celebrate that everything is possible.
Free from religion and conventions, the church hosts events ranging from partying and dancing to getting married. Far from being your average wedding, electronic lovers can tie the knot at Parookavilla.
The citizens also get a marriage certificate, a photo and a Parookaville stamp to make them realise that last night's "I do" wasn't a dream.
Organizer Bernd Dicks actually married his entire crew here and rumour has it all of them are still in love. In an interview, Dicks said the Parooka Church is "one of the highlights for our citizens every year."
There are eight stages at Parookaville
Germany's biggest electronic music festival has eight stages and each looks like a proper building.
Further fuelling Parookaville's status as a city, elaborate designs and eye-catching details adorn every stage to give the metropolis feel.
Parookaville's Mainstage, Bill's Factory, Cloud Factory, Power Plant, Time Lab, Desert Valley Stage, Wacky Shack, and Brainwash each stage display different talents and genres simultaneously throughout the course of the event.
A-list electronic DJs are part of the picture
The legendary city of Parookaville offers a lineup of over 300 acts from across the range of electronic music. The Chainsmokers, David Guetta, Steve Aoki, Martin Garrix and many more have graced the festival with their mixing skills.
With a never-ending love for everything that's soaked in electronic beats, the German festival creates the type of lineups that will make you instantly tap on the 'buy ticket' button.