This music mecca is renowned for showcasing top-tier British musical talent. It is also famous for being Scotland's first music festival to win Attitude is Everything's Gold Status Award, an accolade given to festivals that break down barriers for disabled people.
TRNSMT Festival replaced T in the Park
The two festivals might be different, but they share the same core. While both feature a diverse music repertoire consisting of rock, indie, and electronic music, they also host similar headliners, such as Radiohead.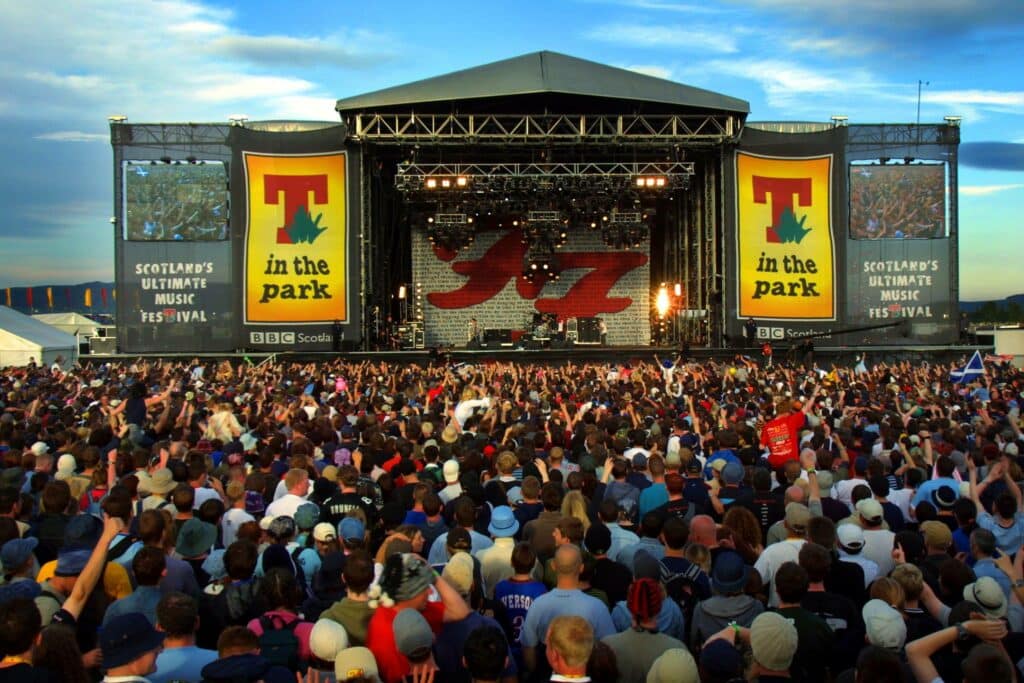 Some of T in the Park elements still reign supreme – the King Tut's Tent became King Tut's Stage at TRNSMT. Not to mention that both festivals were founded by the same music and event promoter, DF Concerts.
TRNSMT's first edition ran for three days, featuring stellar headliners Radiohead, Kasabian, and Biffy Clyro. After hitting the jackpot with their new event, DF concerts decided to extend the festival's second edition. TRNSMT's second year spanned over six days, split over two weekends.
The festival has impressive lineups
Every year, the festival promises a stellar lineup of musical performances. While fans are thrilled to see unmissable headliners such as Lewis Capaldi, The Strokes, and Paolo Nutini, there were many other local performers to check out, such as The Snuts and Alex Amor.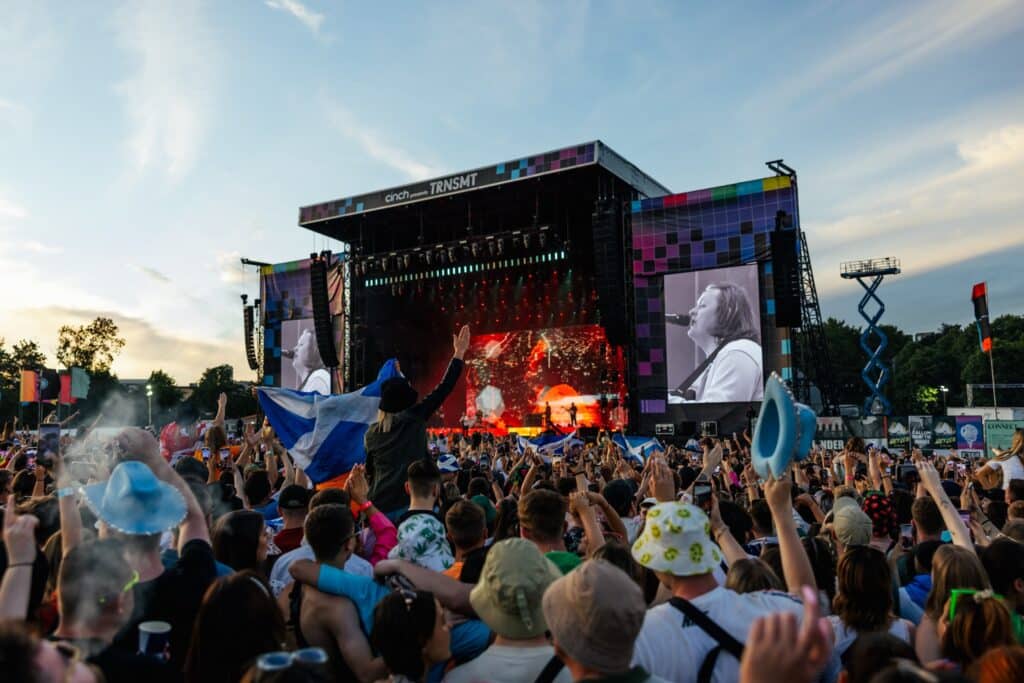 Further down the list are English music heroes, artists and bands like Sam Fender, Tom Grennan, and Foals, known in the alternative and indie music scene.
But that's not to say TRNSMT is not a fan of upcoming artists – on the contrary. Lesser-known artists are worth keeping an eye on, such as 15-year-old singer Connor Fyfe, the festival's youngest performer.
TRNSMT Festival takes over Glasgow's oldest park
Glasgow in Gaelic means 'dear green place'. If you spend time touring the city, you'll quickly discover that it truly lives up to its name. Glasgow Green, a city landmark that saw daylight for the first time a few centuries ago, is the city's oldest park.
In between its mammoth and mesmerizing monuments, the park has played host to Download Festival, a live music festival with icons like Metallica, Linkin Park, and Korn.
Glasgow Green hosts several well-known events yearly, including the World Pipe Band Championships.
There are three stages at TRNSMT
Ladies and gents, we have the TRNSMT Main Stage, King Tut's Stage, Queen Tut's Stage, and the River Stage.
Queen Tut's stage lineup includes some of Scotland's top-rising female bands playing eclectic music, spanning a broad range of genres and music styles.
While the Main Stage showcases international headliners, King Tut's Stage features a mix of newcomers and chart-topping artists. Finally, the River Stage hosts emerging Scottish talents performing indie, alternative, rock, and pop music.
TRNSMT is not a fan of camping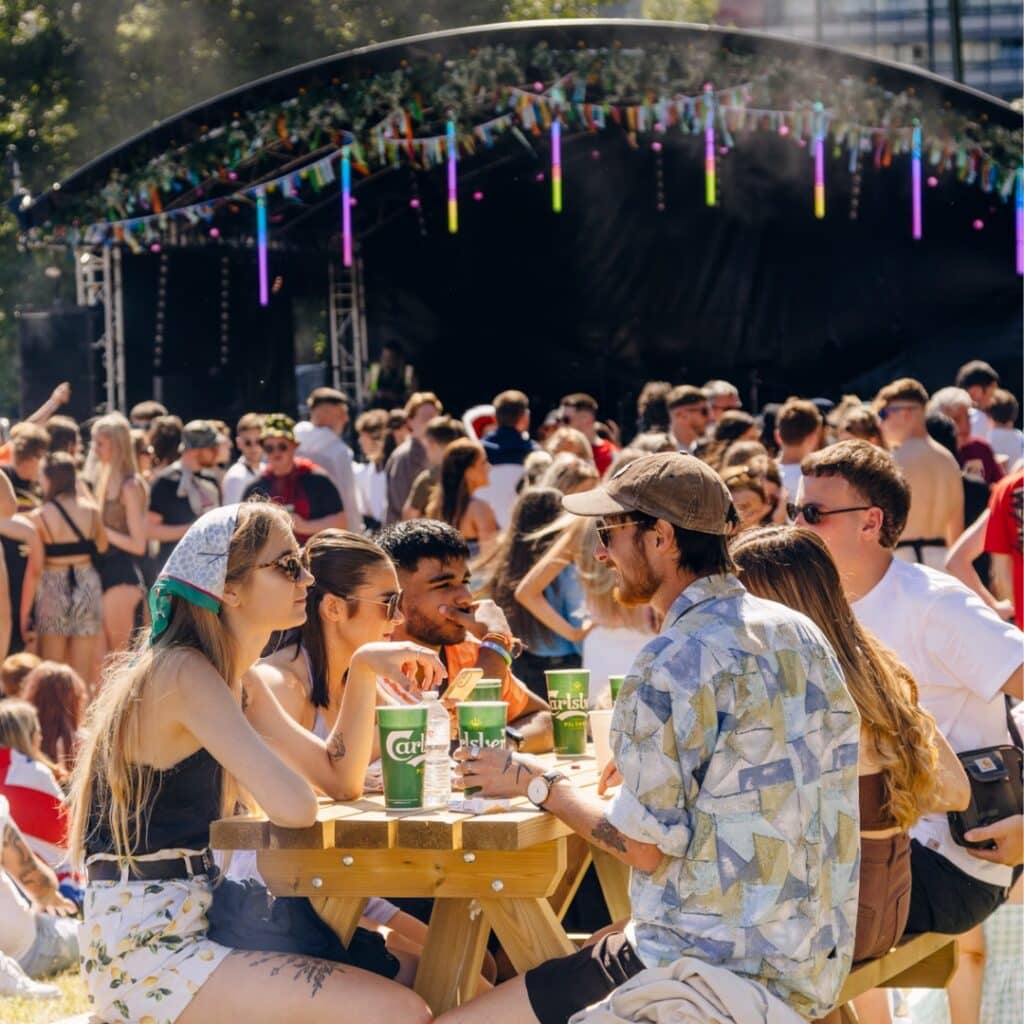 Instead, festival-goers will have to leave the site and return the next day to attend performances.
Glasgow is a city brimming with hotel options and Airbnbs for all pockets, offering attendees a diverse array of accommodations.
This allows everyone to take a 10-minute timeout at their rental or hotel. TRNSMT's claw will be there to catch them when they come back.
TRNSMT offers environmentally-friendly fashion workshops
Fans are urged to bring some worn-out clothing so that free repair workshops can give them a new life.
Not a fan of sewing? Don't worry – the organizations provide sewing equipment, allowing beginners to learn how to patch holes, replace buttons, and reuse their pre-loved items.
Individuals constantly looking for new clothes can also swap their pre-loved items with second-hand garments that passed the time's test with flying colors.
The ride of a lifetime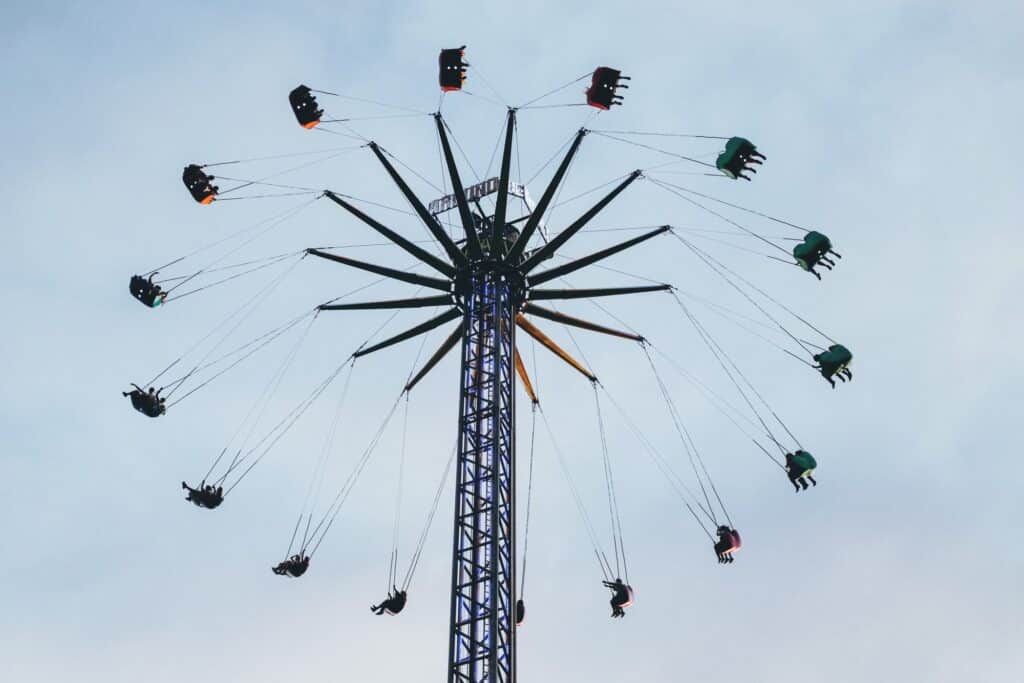 During TRNSMT Festival, Glasgow Green is home to various exhilarating attractions and fun fair rides. This includes the Ferris Wheel, which offers a laid-back experience through its open-air gondolas.
The King Loop gives adrenaline junkies a dizzy rush with its extreme flips and dips. Last but not least, The Rocket takes riders to new heights, providing an unforgettable ride.
But attractions are not the only surprises at TRNSMT. During the 2022 edition, Lewis Capaldi helped sell out the festival passes, which was a moment for the history books. Less than 24 hours after the artist's iconic closing performance, the festival was renewed for a 2023 edition.
Lewis Capaldi's iconic stage entrance with his Chewbacca Mask
As a response, Capaldi strutted onto the TRNSMT stage dressed as Chewbacca, in a lighthearted joke at the former Oasis guitarist.
After the festival, the bold Scottish singer autographed the Chewbacca mask he wore at TRNSMT Festival and auctioned it off for more than £7,000. He gave the earnings to Tiny Changes, a community aiming to improve the mental health status of younger generations.
But why were the two at war? During an interview, Noel offered a scathing judgment on the status of modern music. When the interviewer mentioned the skills of young artists like Lewis to assuage the star's fears, Noel replied, "Who's this Capaldi fella?" before labeling him an "idiot."
Bid farewell to performances and enjoy the food and merchandise
As previous winners of Glasgow Live's Best Street Food award, Big Feed ensured that festival-goers could enjoy some of the city's most finger-licking food and drink vendors, like Salt n Chilli (a fan favorite) and Dough Man's Land for pizza lovers.
But the music festival doesn't stop at food. At TRNSMT, independent artists create and market a variety of products, including T-shirts, stickers, wall art, and home furnishings. Charity shirts are also designed to support the NHS (National Health Service).
Since cash ceased to exist on TRNSMT grounds, all bars, food vendors, and retail locations on the site only accept cards or mobile payments.
Rather than making festival-goers turn their pockets upside down searching for some loose change, the Scottish festival adopted the card payment mantra.
For an upgraded experience, festival-goers can unwind in the VIP area, which is now centered on the lovely fountain at Glasgow Green.
What could be better than a glass of bubbly upon arrival in a chilled-out zone?
TRNSMT Festival's cup deposit scheme
This campaign reached the festival-goers of TRNSMT with their cup deposit scheme, encouraging them to participate in the recycling movement and limiting single-use plastics onsite.
And just like that, TRNSMT put a full stop to plastic cups on its grounds. Festival-goers were encouraged to return their cups for recycling by paying a 10p deposit on each cup sold.
This intervention worked wonders as people were returning cups for recycling without asking to get their deposits refunded. At the end of the festival, the total amount collected from this environmentally-friendly initiative reached £911.